Feeling What's Going On - Life for young Tunisians 10 years after the revolution
One year into his university studies, Akrout was arrested and sentenced to a year in prison for using cannabis. After his release, he quit his studies and attempted to emigrate from Tunisia, via a dangerous smuggler route. Like many young people from the marginalised quarters of Douar Hicher and Ettadhamen, there are few opportunities open to him there. Along with his friends, they call Douar Hicher 'Lerya' meaning the exercise yard of a prison.
Ten years after the revolution, with protest movements rising yet again in Tunisia, what hope do young people hold for the future?
Watch the documentary
International Alert Tunisia's documentary 'Feeling What's Going On' offers a deep-dive into two of Greater Tunis' popular quarters, Douar Hicher and Ettadamen. This investigation surveys the experiences of young people in these areas, and the impact of public policies on their lives. We hear stories of young people caught in a system that fails to address deprivation, the testimony of social service professionals deprived of resources, and the discourse of local authorities espousing the mantra of entrepreneurial initiative. The image that emerges is of a sacrificed generation, stubbornly refusing to give up their quest for dignity.
To understand the rising tensions in Tunisia and how to resolve them, we must understand the day to day reality for individuals. Through our work with communities in marginalised areas of Tunisia, to participate in democracy and have a voice, International Alert has built relationships between local authorities and young Tunisians who have been disenfranchised by policies toward them, including chronic underfunding of public services, a lack of a coherent jobs strategy and a securitised approach to dealing with social issues where they live.
Through participating in our documentary, young people reveal the harsh reality of life in their communities and share recommendations to improve their situation.
'Feeling What's Going On' is a must see for anyone seeking to understand the situation for youth in Tunisia ten years after the revolution, the impact of public policies on their lives and the importance of a social and participatory approach to resolving their marginalisation.
We are not criminals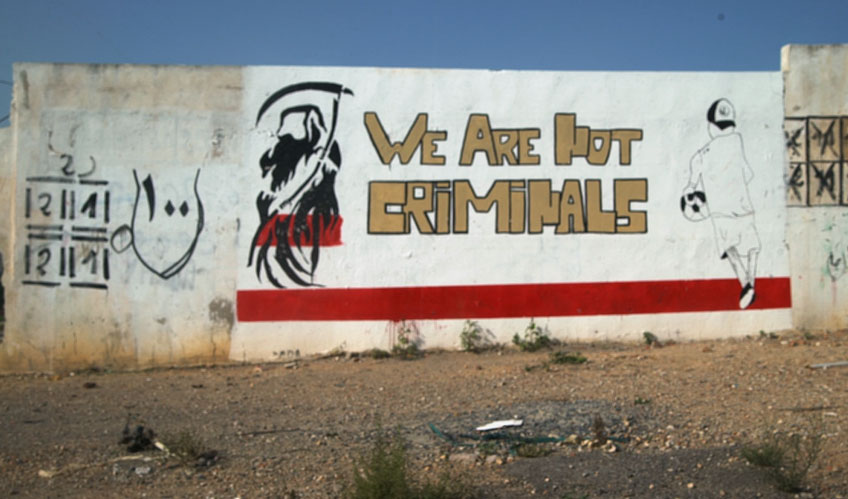 In the police station, our rights are posted on the wall, but we don't enjoy them, we can only read them. If you try to argue with them you get slapped. They don't let you claim any right.
At Douar Hicher, as elsewhere, people we knew went off to fight. That doesn't happen anymore. But we still have to pay for those two years. Terrorism is the pretext for everything. You mistreat people, you block their administrative initiatives on the pretext of the fight against terrorism.
The most important thing for us in Douar Hicher is jobs. To find work, you have to leave the quarter.
Even if you find a job, transport is a problem. Those with the sharpest elbows get on. Sometimes I have to call to say I won't be coming.
They've blocked the harga (irregular emigration route) and that obliges us to sell their drugs. That's why they block all the ways out for us.
Young people in Tunisia have a right to a life free from violence and to public services that support them. But youth in Douar Hicher and Ettadhamen are instead treated with suspicion and stigmatisation, with services chronically underfunded and poor access to education and jobs, leaving them with few positive options open to them. The only way to change this is to listen to their voices so they can stand up for their rights. Watch 'Feeling what's going on'
A participatory approach to rights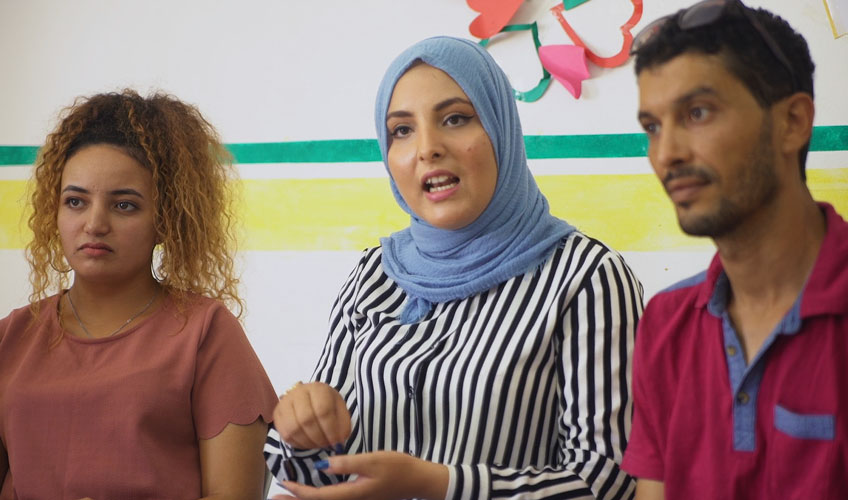 International Alert believes in a citizen-led participatory approach to building peace and resolving the issues that drive community tensions.
Our latest quantitative research involved youth from working-class neighbourhoods in assessing public policies in the field of education to support their right to education. Read 'Citizen diagnostic on secondary education in Tunisia'
Young people from Douar Hicher worked together with us to create a series of four films highlighting the violence they face day to day and their legal rights to a life free from violence, to raise awareness with policy makers and their communities. Watch the 'Four days of violence' campaign
We brought together young women in Tataouine, a region where women suffer from school dropout rates that are often double the national rate and high unemployment rates to create films documenting their perceptions and struggles on issues concerning security and insecurity, the economy and their aspirations for the future. Watch 'Voices from the border'
Our innovative Youth-friendly healthcare services project brought together youth networks in Kasserine, Tataouine and Douar Hicher where young people have a lack of access to health services and, through the project, have assessed the healthcare facilities in their area leading to improvements in the service and bringing excluded youth to discussions around a constitutional right, the right to health.
As COVID-19 continues to disproportionately affect those living in marginalised communities, social movements are growing in marginalised areas that have suffered years of poor services and institutional violence. Meanwhile more young people are fleeing the economic crisis and high unemployment to Europe, often along dangerous routes. It is more important than ever that we promote the social, economic and political participation of marginalised youth in Tunisia to build a better future.
We thank the European Union for their support for this work.
About the film
French title: Sentir ce qui se passe
Arabic title: حاسس بلي صاير
English Title: Feeling what's going on
Duration: 45 minutes
Genre: Documentary
Produced in Tunisia
Production: International Alert
Directed by: Olfa Lamloum and Michel Tabet
Camera: Samed Hajji and Michel Tabet
Language: Arabic (subtitles in French and English)
Released: December 2020.
The directors
Olfa Lamloum is International Alert's Country Director for Tunisia. A political scientist, she has conducted and coordinated several research projects on the relegation of the urban and suburban margins of Tunis, as well as setting up numerous projects promoting participative democracy. Co-director of the documentary 'Voices of Kasserine', she has also published a number of articles and publications on the Arab world.
Michel Tabet is a French Lebanese film director and visual anthropologist. His work is located at the nexus between documentary and social science. He works regularly with research centres and NGOs to develop investigative film capabilities. His works included Méditerranéee (France, 2020), Voices from Kasserine (Tunisia, 2017), Zana-bahoaka – le néo rebelle malagasy (Madagascar, 2016), and The Tears of Imam Hussein (Lebanon, 2006).