Eight Filipino youth off to New Zealand for leadership programme
Eight young leaders from various parts of Mindanao in southern Philippines will be departing on Friday to Wellington, New Zealand for a four-month bespoke leadership programme.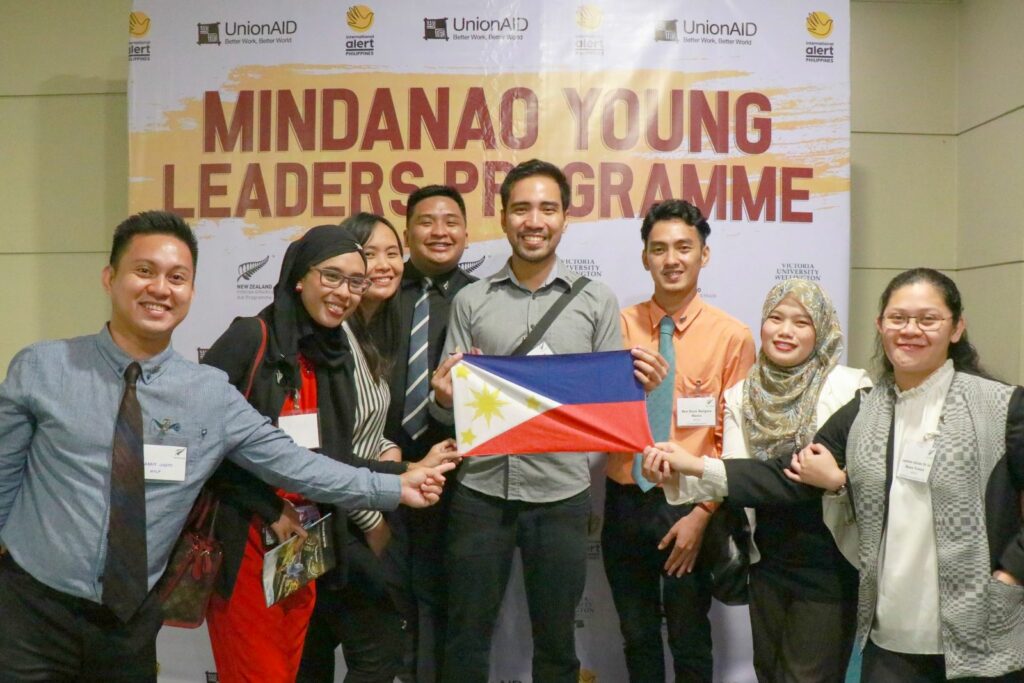 The Mindanao Young Leaders Programme (MinYLP) will expose the scholars to new ideas and institutions, inspire them to think critically about what they can apply in their own communities, and develop their research, evaluation and communication skills to contribute to the sustainable and peaceful development of their communities.
His Excellency David Strachan, New Zealand Ambassador to the Philippines, sent-off and congratulated them in a dinner reception at the Marco Polo Hotel on Tuesday.
"New Zealand is committed to do what it can to support peace and stability in Mindanao. We recognise the pivotal role youth will play as agents of change," said Strachan.
The Ambassador added, "It is our pleasure to host these talented young leaders. We hope that their New Zealand experience will help them develop their own communities and contribute to peacebuilding."
Mr Vicente Lao, New Zealand Honorary Consul to Mindanao, looks forward to the participants' return and their contributions to the region through their chosen sectors.
These young men and women can learn from what the best of New Zealand has to offer and share these solutions for the development of Mindanao
The MinYLP is supported by the New Zealand government and managed by UnionAID in collaboration with International Alert Philippines and Victoria University of Wellington.
New Zealand has allocated more than 97 million pesos for the project. Over the next five years, the MinYLP will continue to support youth leaders from Mindanao who will take part in the programme in New Zealand.
Youth participation
Our Philippines Country Manager Nikki de la Rosa said the programme is timely and important in this period of the Bangsamoro transition and the impasse in the peace process with the communist insurgents, because it harnesses young people's energies and dynamism to help address urgent issues in their communities that impact on long-term prospects for peace and development.
"While a new Bangsamoro is key to securing lasting peace and development in Mindanao, the transition is fraught with risks that may create new cycles of violence borne from exclusion and betrayed expectations," de la Rosa said.
She explained that the inputs and experiences that the participants will gain in-country and in New Zealand will strengthen their participation in addressing issues faced by their sector, especially those vulnerable to the influence of violent threat groups.
We have been working directly with conflict-affected communities in Mindanao by ensuring that the voices of different members of society, especially the marginalised, are respected and valued in decision-making and state-building processes.
Alert is currently conducting a one-week foundation workshop with the young leaders to hone their skills in analysing the political economy of conflict and the multiple formal and informal institutions at play, and to equip them with tools to navigate political, socio-cultural and economic intricacies.
All set
"I'm deeply honored to be part of this pioneer batch of MinYLP scholars," said Abubakar Basman, 23, from Marawi City. "I appreciate that the programme will help me learn the best mechanisms and practices not only in managing disasters, but in managing risks, which is what New Zealand is proud of."
During the Marawi siege in 2017, Basman was part of the white helmets volunteer rescue group that saved some 1,700 lives by going into the battle zone.
He is currently the public relations and programmes officer of the Lanao del Sur Early Response Network, a network of local disaster risk reduction and management officers from 39 municipalities and Marawi City in Lanao del Sur that monitors and coordinates both natural and man-made disasters – including tensions and critical events that may lead to violence and high human cost – and coordinates prompt multi-stakeholder responses to these.
Twenty-six-year-old Alexis Yonson from Cagayan de Oro City said she is excited to learn more about indigenous peoples in New Zealand and how the government helps them preserve and improve on their crafts and agricultural products.
Yonson is a project officer at ECHOsi Foundation, and works with women weavers, coffee producers and entrepreneurs in preserving indigenous culture while developing design innovations and improving their economic standing. Yonson shared that cultural and local agricultural products must be further developed and deemed economically viable by more people in the country.
"When people appreciate the uniqueness of different peoples, big and small communities become more cohesive and prosperous in the long term," she said.
Basman, Yonson and the six other scholars bested 130 other MinYLP applicants from across Mindanao. The other scholars are: Rohanie Ibra Amer, a development worker focusing on gender-based violence projects, from Marawi City; journalist Malaya Genotiva and rugby coach to less-privileged children Hilton Soberano, both from Davao City; ecologist and conservationist Ben Raye Marco from Pigcawayan in North Cotabato; school teacher and Philippine Red Cross youth adviser Sanny Priann Justo from Esperanza in Agusan del Sur; Sharifa Ain Abdulmajid Lipae, a community worker who works with women cross-border traders in Bongao, Tawi-Tawi.
The MinYLP young leaders will follow a group programme in Wellington organised by UnionAID, a charity that educates and empowers working people in developing countries. UnionAID has been running similar leadership programmes for young civil society leaders from Myanmar for nearly 10 years and Indonesia for two years, with a total of 79 alumni. Currently, 12 scholars from Myanmar and 10 from Indonesia are in Wellington undergoing training.
Like other scholars, MinYLP young leaders will learn from New Zealand organisations and individuals, including local and central government, NGOs, academics and Māori, about a wide range of topics, such as community development, democratic governance processes, gender justice, labour rights, conflict resolution, sustainable economic development, environmental management, social enterprise, and indigenous approaches to development.
They will also explore their particular areas of interest, develop and refine a research question on these topics, and prepare a proposal for a practical 'change project' that can be undertaken on their return home.
New Zealand assistance to the indigenous peoples in Mindanao
Ambassador Strachan also handed over a cheque to Mr Benjamin Abadiano, Founder and Co-Director of the Pamulaan Center for Indigenous Peoples Education, for PhP 800,000.
The project aims to strengthen the Indigenous Peoples Center for Agricultural Research and Ecological Studies in Mindanao by increasing the capacity of indigenous peoples youth and farmers towards a sustainable and green economic growth.
The project will assist 600 Indigenous Peoples farming families in Sumilao, Bukidnon and Marilog, Davao City.