Claudine Nikuze is 40 years old, with two children. Claudine dropped out of school at 16 and started trading at the evening markets in her village, with less than 2,000 Rwandan francs to her name. At 29, she started crossing the border from Rwanda to Bukavu, Democratic Republic of Congo, to sell vegetables and fruits. As a result, her capital increased to 7,000 Rwandan francs.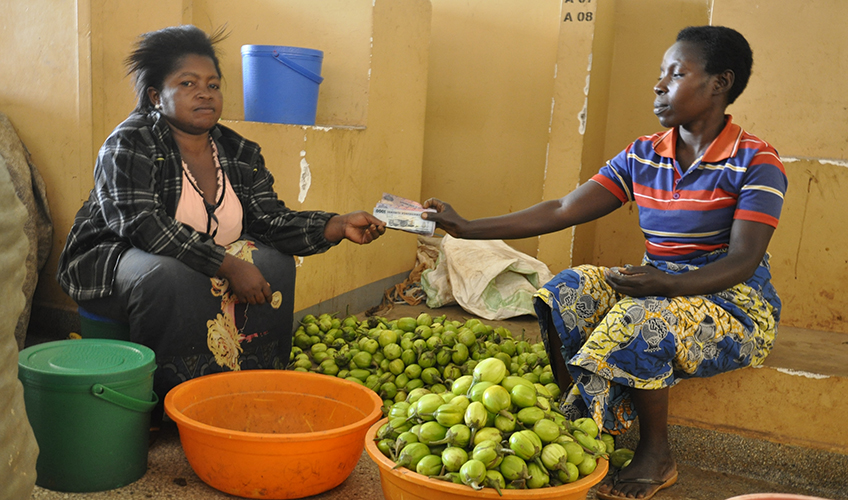 However Claudine's business suffered after the death of her father when she had to take on the additional responsibility of caring for the family. She was unable to cross the border and much of the capital she raised previously was used at home. To try to make ends meet she decided to return to the evening markets in the village.
In March 2019, Claudine learned of our Creating off-farm Rwandan Enterprises (CORE) project that supports women cross-border traders boost the potential of their trade, fostering an environment of entrepreneurship for women and youth in Nyamasheke and Rusizi Districts. The project is helping to challenge gender norms and moving women from being economically marginalised to becoming empowered so that they too can play a part and have a say in how peace is built in their communities. Claudine says,
Men want to be superior in everything. They think women are nothing and we cannot live without them. Since childhood I have never accepted to be taken for granted, we are all equal before God, why be mistreated?
Claudine attended CORE trainings on business management and dialogue meetings which discuss issues such as equal access to resources (financial services, land etc), women's inheritance and full rights on land registration, gender-based violence, how and why gender equality is relevant in business management, understanding people's different experiences of conflict, business registration and other business hinderances etc. Such discussions allow businesses and entrepreneurs to work together with local leaders to overcome barriers to business operations and growth and address the concerns of community members.
Securing her business
Claudine was encouraged by other participants in the training to join a savings group. She secured a loan worth 15,000 Rwandan francs from the Village Savings and Loans Associations (VSLA) to improve and invest in her business.
Despite being discouraged by others, Claudine moved closer to the cross-border trade market and hired a stall where she could sell tomatoes. Using the knowledge she gained from the CORE trainings and dialogue sessions, along with good investment and enough savings, Claudine now has a permanent stall where her customers can easily locate her. Her goods are secure from being stolen, rain does not cause her to stop work and she is no longer worried about being harassed.
"Before I joined this market, I was crossing over to Bukavu every day carrying a basin of tomatoes or other goods depending on the market demand. In Bukavu, there are no constructed affordable markets, so I would walk street to street, house to house looking for buyers. Some customers would refuse to pay me, security organisations would take my things and I had nowhere to report it, above all I was always tired because of walking across the border and then coming home to take care of people." Claudine says.
Ever since International Alert encouraged us to join this market, the suffering I endured has become history
Claudine's dream is to save at least 800,000 Rwandan Francs and expand her business further.
About the project
Through training and dialogue sessions, business is being leveraged to adopt conflict and gender sensitive practices. It is also used to collectively influence post conflict development policies and practices for more inclusive and sustainable development within communities and to end violence and gender issues facing women and youth cross-border traders. Conflict hampers trade and socio-economic development but peace does the opposite.
The CORE project aims to support women and youth run cooperatives and help them build off-farm entrepreneurship skills so that they increase their opportunities to make a living and keep their families safe.
CORE also links participants with long-term business mentors to support them to grow and sustain their enterprises. The project strengthens the environment for the successful management of cooperatives and business groups run by women and youth cooperatives through dialogue, research and advocacy. It also helps these entrepreneurs to access financial services in order to invest in their businesses.
---
Read more about the women working as cross-border traders in Rwanda and how they are persevering despite the challenges posed by COVID-19.