Building bonds and breaking the cycle of hate
25 years ago Theogene was part of a group that stormed Francine's house, seeking to kill her. At the time, a catastrophic genocide was underway across Rwanda and the group wanted Francine dead because she was Tutsi.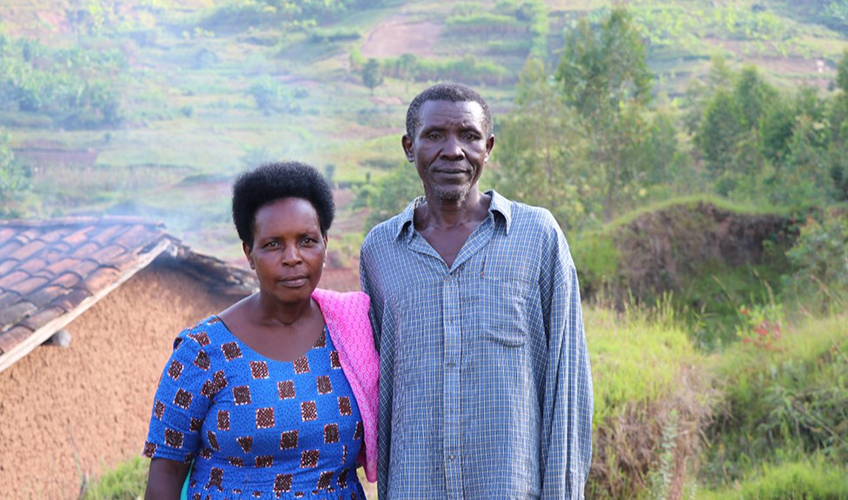 According to Francine, Theogene was after her life but she managed to escape and survive. He was convicted and sentenced to seven years in prison. He remained in prison until 2009 when he was released following a presidential pardon. Immediately after his release, Theogene went to Francine to ask for forgiveness but she did not find it easy to forgive.
Later, International Alert Rwanda encouraged them both to join one of the dialogue clubs set up under our Duhuze project where they were able to receive therapy and find a way to talk to each other. The dialogue facilitated through the club helped Francine and Theogene to mend their broken relationship. They were also thankful to the dialogue club because it gave them access to the joint economic initiative called 'Twuzuzanye' and they were able to start a beehive and honey production business together, which helped them to earn an income and build further trust in one another.
Today, Theogene, 65, and Francine, 52, continue to be members of the same dialogue club. They have put their past behind them and built a relationship based on forgiveness and trust.
Francine tells us, "I never thought I would talk to Theogene again after what he had done. I even didn't want to see him because whenever I saw him, I would remember the worst memories I could ever have … we went through the Duhuze therapy and I forgave him."
People can't believe that he is the one who helps me in organising social functions held at my home. We are now moving on together, as good neighbours.
Theogene is the proprietor of a beekeeping business and proud to have been able to influence his dialogue club members – many of whom he would not have been able to meet after his release from prison. He is always available to help Francine whenever she needs help, like fetching water or hosting guests at home. The two are living happily and enjoying a cordial relationship.
Another story that emerged from the same dialogue club is that of Vestine. Vestine spoke of her hatred towards the Tutsis, who she perceived to be responsible for the deaths of her family members. Following the genocide, most of Vestine's brothers joined the insurgency against the new government. As a result, 19 of them were killed in the war.
She said: "I was depressed. I used to confine myself at home and never wanted to get involved in any government programmes. Out of 21 children, only three remain in our family. The rest were killed during the insurgency. This made me hate anything related to the Tutsi. I couldn't even imagine myself sitting near them at all. Even when people would contribute some money to support survivors during the memorial period, I saw it as none of my business. However, since joining the dialogue club, my attitude has changed."
Dialogue has helped us break the silence and has seen us get healed of our wounds. Thinking together, planning together, sharing ideas and sharing our problems has been brought about by the joint economic initiative that the club offered. We now collaborate with each other without looking at our ethnic differences.
Fidel went to jail aged 17 and spent 10 years and five months inside. Like most other members of the dialogue club, he believes that joint economic initiatives have helped members reconcile and feel closer.
Fidel tells us, "economic wellbeing is key to ensuring lasting reconciliation. You cannot talk about reconciliation when your family has gone without food for a long time and or do not have any hope for an improved future. This is particularly made worse when the people with whom you have had conflict with appear to live a better life or can at least afford a day's meal. This joint economic initiative puts us all together."
Here, we are all striving for a better life regardless of ethnicity, or category. It doesn't matter whether you are a perpetrator or a survivor.
About the project
The Duhuze project helps to consolidate peace and inclusion in Rwandan society by enhancing citizens' participation in and ownership of reconciliation processes, policies and programmes. This includes enhancing psychosocial support for young people affected by transgenerational trauma and improving trust among marginalised groups through inclusive dialogue processes and joint economic initiatives.
We also aim to strengthen the capacities of authorities, civil society organisations and companies to effectively implement reconciliation and build peace.
The project is being carried out in 1,260 communities from 21 sectors across seven districts: Gasabo, Gisagara, Huye, Musanze, Ngororero, Nyamagabe and Rubavu.
Alert works on this project with the following local partners: Association des Jeunes pour la Promotion des Droits de l'Homme (AJPRODHO) and Rwandan Association of Trauma Counsellors (ARCT – Ruhuka).