Bridging the gap: Jean Bosco's story
The seed of tribal divisions destroyed the social fabric in Rwanda following the genocide against the Tutsi in 1994. After the dark history that Rwandans have experienced and lived with for many years, the Rwandan government's main focus has been to realise fully fledged reconciliation where Rwandans can enjoy a peaceful and inclusive society, and achieve sustainable development.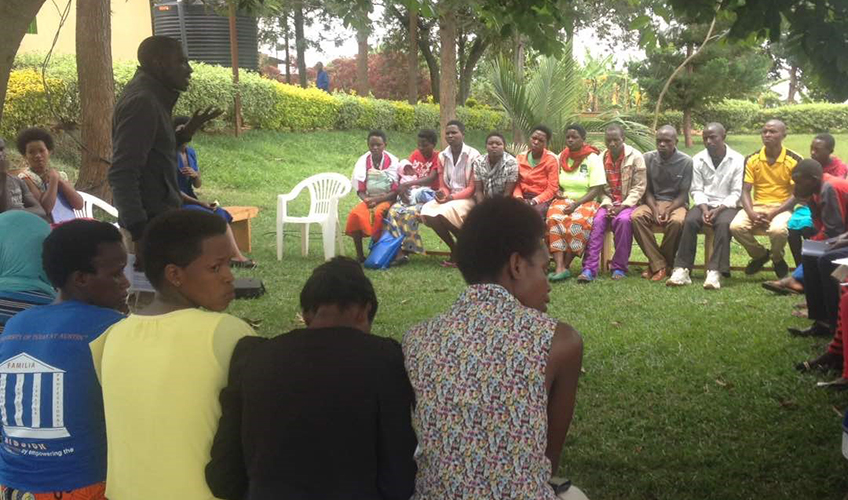 Despite significant efforts by the government of Rwanda to arrive at the currently appreciated reconciliation process, achieving social cohesion among genocide survivors and perpetrators still has some hinderances, especially among young people. Young people from the survivors' families still carry wounds of the genocide that claimed the lives of their loved ones, while those from the families that committed the genocide carry wounds of guilt for their parents' actions. Some carry wounds of their imprisoned parents.
As a result the words of hatred and division, as told to them by their parents or relatives, have been passed down leading to 'transgenerational trauma'. This has left a huge gap among the younger generations, which threatens the continuation of division and hampers the 100% realisation of unity and reconciliation among Rwandans.
Transgenerational trauma
Healing of psychosocial wounds for young people faced with transgenerational trauma is the key intervention for International Alert Rwanda's Duhuze project. The focus on young people is particularly to redefine the relationship of Rwandans through them. They are the future of the country and it is critical to detoxicate their generation of the disastrous beliefs of hatred they may have acquired from their parents, thereby preparing the next generation for a better future.
International Alert is implementing the Duhuze project to help Rwandans forge a peaceful co-existence where everyone is free to participate and feel included in the ownership of the reconciliation process. Strategic interventions for promoting dialogue among the conflicting parties, such as Duhuze forums, give young people a space to talk and interact freely, enabling them to appreciate their own differences and together diagnose problems and find peaceful solutions. Therapy groups have also helped to start healing the wounds of the past and address transgenerational trauma.
Jean Bosco, a young man and a resident of Busugo sector who joined the Duhuze forums shares his story with us. "I never wanted to meet with others. I felt isolated and didn't want to get involved in any group activities … not even talk with my mates in the village. The Duhuze forums have greatly influenced my life. They have helped me to get involved in several of the youth activities in our community. I now feel free to mix with others … it was difficult … but I can now."
When the Duhuze forums first started it was difficult getting the Tutsis and the Hutus to sit together. Jean Bosco remembers a particular member of the group, whose parents participated in the genocide, not wanting to take part in the discussions at first. He told Jean Bosco,
You can't imagine how I feel when I meet Tutsis. I carry my parents' guilt. I can't feel comfortable … I am always ashamed and fear getting too close to them just because of what my father did.
Jean Bosco goes on to say, "but after he was talked to and convinced that he should not carry the blame for his father's actions, he started to open up and talked about how he felt. He now feels free to express himself and he can play with others. In fact, he is always the first to attend the dialogue meetings now."
Looking beyond the "tribe box"
Jean Bosco stressed that the Duhuze forums have helped him to get out of the "tribe box" and start looking at the other tribes (Tutsi and Twa) in a more constructive way,
We help the survivors of the genocide as well as the perpetrators that have been released from prison by rebuilding or rehabilitating their houses and helping them in crop cultivation … in our group all tribes are represented (Hutu, Tutsi and Twa).
"We learned through Duhuze that there are no differences between the different tribes … God created man and woman – no Tutsi, no Hutu, no Twa. I started to talk to Tutsis and we even made plans together … we now sit together, and share ideas and drink. We even visit each other. In Duhuze I learned that we need to build strong relationships and a bond that will help transform our society rather than having divisions that destroy us."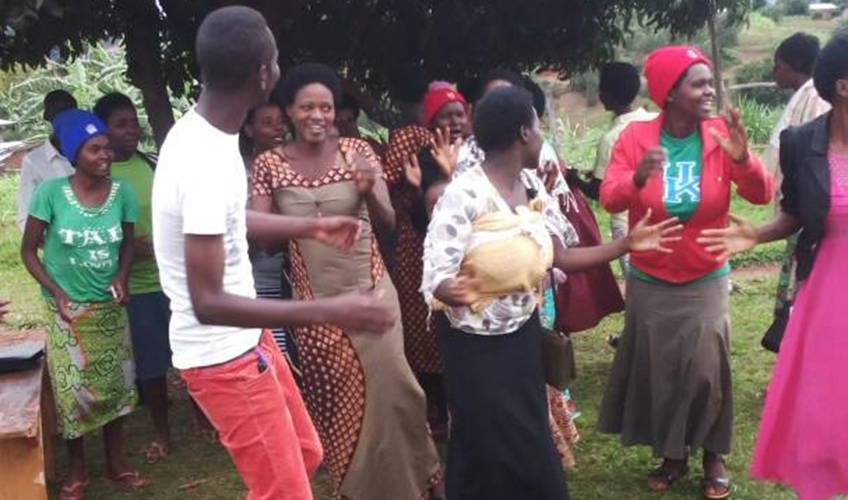 As the forums continued it became more evident that everyone could now sit together, mix and talk through their problems. Therefore, Jean Bosco wanted to encourage the youth in his community to attend initiatives such as the Duhuze forum because they are key to rebuilding a nation like Rwanda, where a seed of division resulted in the destruction of humanity. He said,
We want to help them to understand that our country has gone through dark days which we should fight not to come back to … our ambition is to have a unified Rwanda where there is no more segregation and divisions based on tribe.
"There are many people in the country with the same ideology as I had and they also need to be helped … Activities that run alongside the Duhuze forum, such as village savings and loans association (VSLA) groups also help us develop and build trust with one another since it allows us all to start our own income generating activities."
Jean Bosco also revealed that some of the discussions that happen in the forum help him and his community, in Byangobo, to understand their real origin. "Through the dialogues we had in the forum I came to learn that all people in Byangabo (Tutsi, Hutu and Twa) belong to the same family lineage … I got really confused. We realised that we all originate from one man Ngabo, the person who our area "Byangabo" is named after." Jean Bosco could not believe that he, a Hutu, could be related to the Tutsi and Twa.
"In Byangabo at least, I have learned that there is no Hutu, Tutsi or Twa. We are all one … Duhuze forums have helped the youth to understand their true identity, which has helped them to co-exist … they now feel free to talk through their problems and challenges, and I am sure if these forums continue we will realise real reconciliation in this place."
You can see that young people are now sharing and talking to one another, despite the differences that their families could be having … this is a good thing. It guarantees peace and collaboration for the future generation of this country. I wish it could continue like this in other parts of the country.
About the project
The Duhuze project helps to consolidate peace and inclusion in Rwandan society by enhancing citizens' participation in and ownership of reconciliation processes, policies and programmes. This includes enhancing psychosocial support for young people affected by transgenerational trauma and improving trust among marginalised groups through inclusive dialogue processes and joint economic initiatives.
We also aim to strengthen the capacities of authorities, civil society organisations and companies to effectively implement reconciliation and build peace.
The project is being carried out in 1,260 communities from 21 sectors across seven districts: Gasabo, Gisagara, Huye, Musanze, Ngororero, Nyamagabe and Rubavu.
Alert works on this project with the following local partners: Association des Jeunes pour la Promotion des Droits de l'Homme (AJPRODHO) and Rwandan Association of Trauma Counsellors (ARCT – Ruhuka).