Alert partner wins 2019 Defender of Democracy award
Katana Gégé Bukuru, Executive Director of the women's right organisation Solidarity Movement of Women Human Rights Activists (SOFAD), has won a major award for her work on drawing attention to the need for peace, respect for human rights and the protection of women in eastern Democratic Republic of Congo (DRC).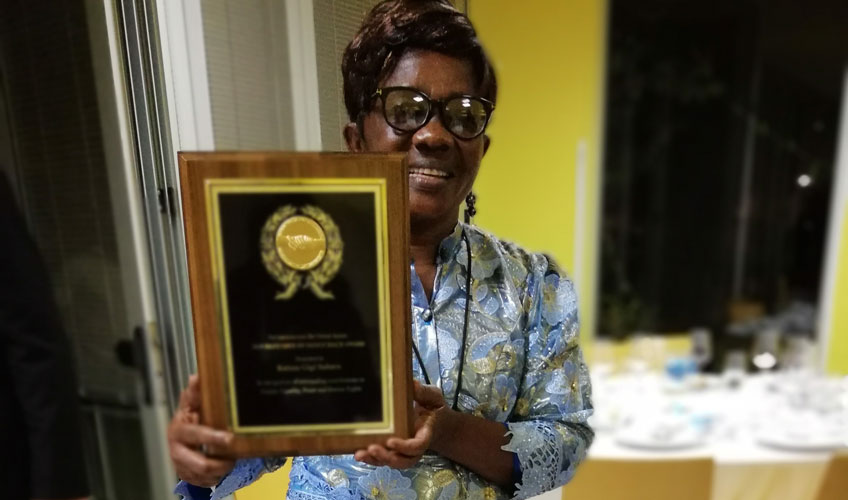 Accepting the Defender of Democracy Award, Mme Bukuru said she was delighted to be recognised and thanked the awarding body for drawing attention to the need for stability in the Great Lakes.
"It is with a lot of respect, hope and joy that I receive this award. I would like to dedicate this prize to the women, young people and human rights defenders who campaign night and day for the establishment of democracy and women's rights," she said.
This award is a reminder to humanity, of the millions of women around the world who face suffering. It is a reminder that we start listening to them and fight for the respect of their rights and their dignity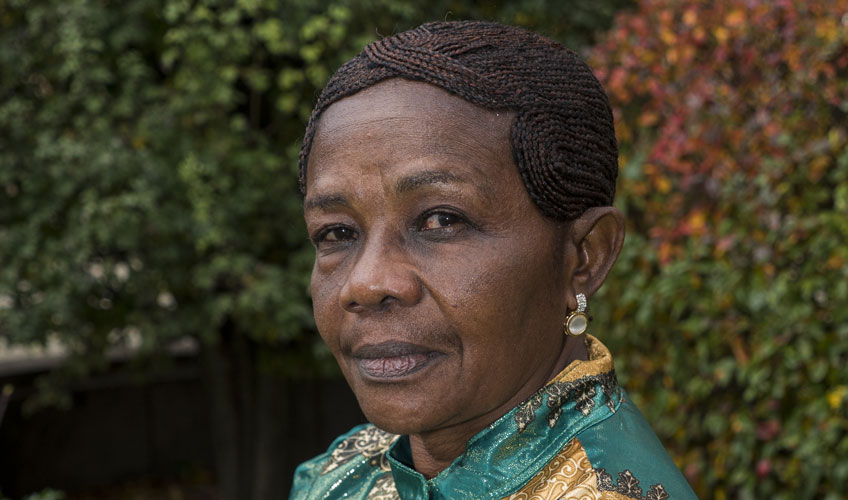 Mme Bukuru is the founder of SOFAD – a local organisation in eastern DRC, that works with grassroot women to research and campaign against sexual violence, and to provide counselling and help to victims of rape. SOFAD has worked with International Alert to advocate for the rights of women and children, and to lobby the DRC government to deliver justice, and reform discriminatory laws that often hamper women's participation in decision-making processes.
Commenting on the award, Christine Buesser, Country Director, International Alert – DRC, said she was happy to see Mme Bukuru recognised for the immense work she and her organisation have done promoting the rights of women in the country.
"We are very happy for Maman Gégé SOFAD has been a member of our Tujenge Pamoja kwa Ajili ya Amani consortium project – which works to strengthen stability in Plaine de la Ruzizi and the plateaux region of South Kivu. This prize is a recognition of the difference that Maman Gégé and SOFAD make to the lives of women in South Kivu," said Buesser.
Given annually by the Parliamentarians for Global Action – a non-profit, non-partisan international network of committed legislators from all regions of the world, the Defender of Democracy Award honours individuals who have demonstrated exceptional commitment and contribution to promoting peace, democracy, the rule of law, human rights, non-discrimination and or gender equality.
This year's award ceremony took place on 24 November 2019 at Praia in Cape Verde.
---
About the project
The Tujenge Pamoja kwa Ajili ya Amani project helped to build trust between citizens and the state in DRC by promoting inclusive dialogue as a way of resolving conflict, consolidating peace and creating conditions for institutional stability and economic recovery.
Young men and women are growing up disillusioned, and many have been forced to assume new roles due to conflict. Even when they are able to establish small businesses, these are often pillaged by armed groups and poorly paid security forces leading to further disillusionment.
Therefore this project helped to strengthen the legitimacy of state institutions, built communities' socio-economic resilience to conflict and supported the reintegration of young people formerly associated with armed groups.