Alert campaigns to restart peace talks in the Philippines
International Alert has launched a campaign to push the government and communist insurgents in the Philippines back to the negotiating table.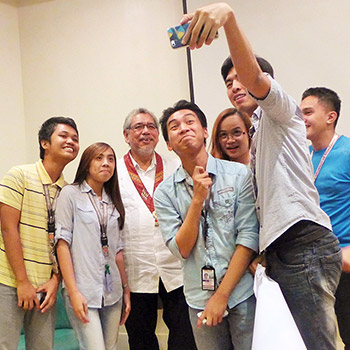 On 16 September in Davao City, in the southern Philippine island of Mindanao, Alert held a dialogue with local chief executives and officials of companies operating in the region who are affected by the ongoing conflict, including agribusinesses, mining firms and private contractors.
It then met with political science students at the University of Mindanao (pictured, with Alert's Philippines Country Manager Francisco J. Lara Jr.), to bring them up-to-date on the peace process and to discuss their role in it.
Alert also gave a press briefing, where it stressed the need for the government to resume peace negotiations with the Communist Party of the Philippines (CPP), along with its armed and political wings, the New People's Army (NPA) and National Democratic Front (NDF), respectively.
"The government, together with those sectors directly affected by the conflict, should work hand in hand to end the communist insurgency at the soonest possible time," said Alert's Philippines Country Manager Francisco J. Lara Jr.
The Aquino government opened formal negotiations with the CPP-NPA-NDF in February 2011 in Oslo, Norway but these broke down soon after. There have been informal discussions since, but these failed to progress to formal talks.
The communist insurgency, which began in 1968, has exacted a high toll on the country in terms of economic and human losses. The NPA attack soldiers, the police and indigenous communities, and force businesses to pay 'revolutionary taxes' or to provide equipment, destroying these firms' facilities and equipment if they refuse.
In Mindanao, the NPA are present in 10 provinces in the island's eastern and southern corridor. Media reports from these places constantly tell of violent clashes between the NPA and the military or police, and the destruction of equipment, especially of mining firms and agribusinesses.
During the dialogue with Davao businessmen, John Y. Gaisano Jr., chairman of the Davao City Chamber of Commerce and Industry, Inc., said it's very important to end the insurgency through peaceful means to prevent the further loss of life and property.
Alert will continue to work with local government and business leaders in Davao, as well as those in Northern Luzon and Eastern Visayas, where the communists have established their presence, to come up with one call to the government to restart formal peace negotiations.
Alongside these activities, Alert is undertaking a research on the economic cost of the communist insurgency and establishing a database on violent conflicts involving the communists in Mindanao. An estimate of the economic cost and a measure of the frequency of conflicts should convince the government to exert more vigour and urgency in reviving negotiations with the communists.
You can find out more about our work in the Philippines.