Advising a major power player in the Philippines
A dialogue group organised by International Alert in the Philippines is setting an example for how companies, communities and local governments can set aside differences, pursue common goals and prevent conflicts.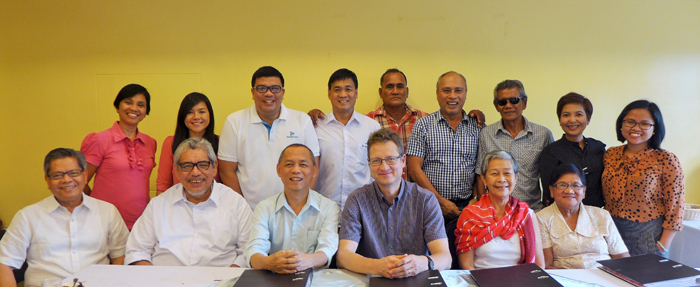 Members of the Davao Multi-Stakeholder Group on Energy Concerns (DMGENCO), formed in 2013, regularly hold discussions to ensure that Therma South Inc.'s (TSI) coal-fired power plant does not cause environmental damage and adopts inclusive and conflict-sensitive business practices as it fulfils its goal of providing electricity to power-starved Mindanao in the southern Philippines. The plant straddles Davao City and Sta. Cruz town in Davao del Sur.
Its members include executives from TSI and its mother firm AboitizPower Corp., and from International Alert, including our Philippines Country Manager Pancho Lara (seated second in from left). A priest, an academic, local councillors, Muslim community leaders and an indigenous tribal chieftain are also part of the group.
Facilitated by Alert, members meet once a month to improve understanding of coal plant operations, discuss ways to reduce conflicts, and address emerging concerns brought about by the plant.
Conflict flashpoints were prevented as a result of DMGENCO's interventions. It was instrumental, for instance, in letting close to 250 Muslim families affected by TSI's coal plant decide between on-site development and relocation to another area. They chose to relocate.
Alert believes that decisions that affect the lives of people and their communities should be made by the people themselves, after looking at all possible options.

Pancho Lara says.
The group also facilitated a dialogue with the main anti-coal leader of Mindanao, inviting her to talk about her concerns and finding ways to help mitigate these.
Bobby Orig, First Vice President for Mindanao Affairs at Aboitiz Power (seated far left), says DMGENCO is succeeding because of the trust among its members – as well as their sense of purpose.
Through monthly meetings with expert resource people invited by Alert, members find better understanding of coal plant operations, which unveil opportunities to improve TSI's relationship with various stakeholders.
"Members have the specific purpose of pursuing the overarching goals of the group. They understand that they represent only themselves and not the organisation where they belong … They may not be loyal to the TSI organisation but they have become fiercely loyal to its values."
And Orig admits that TSI has learned much from DMGENCO.
"TSI must be willing to be transparent … it must be willing to open its practices to examination by the dialogue group so … mismatches between its actions and declared actions can be removed. TSI must also be willing to use the dialogue group as a sounding board to test the validity and likely success of its proposed actions."
You can find out more about what we do in the Philippines here.