Kadiatou Yacouba Keita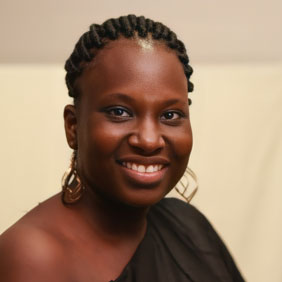 Country Director, Mali
Kadiatou is the Country Director for International Alert's Mali programme. Her role encompasses providing strategic leadership, operational management and technical expertise to ensure the Mali programme's effectiveness. With a strong background in programme development/management, research, and stakeholder engagement, Kadiatou focuses on gender, peace, security, conflict sensitivity and governance. She engages with various actors at local, national, regional and international levels.
Prior to joining Alert, Kadiatou served as a country representative for two peacebuilding organisations, including the United States Institute of Peace (USIP). She has also collaborated with regional organisations such as the Institute for Security Studies (ISS) on policy research and engagement with civil society. In addition, Kadiatou has experience working with the national television broadcaster and various print media outlets as a passionate communicator.
Kadiatou holds two master's degrees—one in Gender and Peacebuilding from Cheick Anta Diop University in Dakar and the University for Peace in Costa Rica, and another in International and Comparative Environmental Law from the University of Limoges, France.