Emmy Auma Odero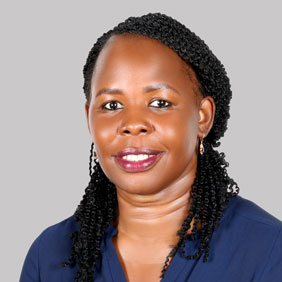 Country Director, Kenya and Horn of Africa
Emmy joined International Alert in May 2023. She leads Alert's peacebuilding work in Kenya and the Horn of Africa. Her role entails strengthening peacebuilding in Kenya and the Horn of Africa Region, developing Alert's portfolio, influencing stakeholders, and liaising with all actors involved in peacebuilding, stabilisation and governance work across the region.
A seasoned development and peacebuilding practitioner, she has 17 years' experience working in diverse fragile and conflict-affected contexts. She is a thought leader in the practice and integration of conflict sensitivity in humanitarian and development and has successfully led research and analysis, implemented, managed, and provided technical oversight for governance, peacebuilding and multi-sectoral programming in Kenya and across the Horn of Africa and Great Lakes Region.
Before International Alert, she led peace, governance, and development programming with several international organizations among them World Vision Kenya, Danish Refugee Council, Saferworld, and Life & Peace Institute while also providing extensive support to numerous National Civil Society and Faith Based Organisations
She holds a master's degree in development studies from the Catholic University of East Africa (CUEA).