Water, Peace and Security early warning tool predicts water-related conflict up to year in advance
A new tool, launched today by the Water, Peace and Security partnership, can predict the risk of violent water-related conflict up to 12 months in advance.
The Water, Peace and Security partnership (WPS) Global Early Warning Tool uses machine learning, coupled with environmental, meteorological, social and economic data to forecast where organised violence is likely to occur. It will enable global development, diplomacy, disaster response and defence experts – together with governments and communities – to intervene and help defuse conflicts before blood is shed.
The tool will identify potential hotspots across Africa, the Middle East, and South and Southeast Asia over the next 12 months, by comparing environmental data with socio-economic and demographic data, including population density and past conflicts, from the past 20 years.
Right now, the tool shows that about 2,000 administrative districts across the Global South are at risk of water-related conflict, including Iraq (Basra), Khorramshahr and Abadan (Iran), and parts of Mali, Nigeria, India and Pakistan.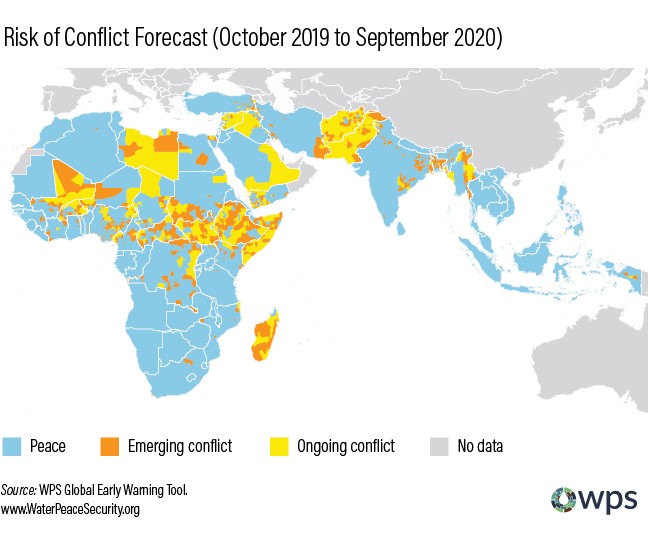 One in four people globally live in extremely water-stressed areas. While action on water issues can help build peace, water risks like drought, scarcity, pollution and floods can also serve as 'threat multipliers' that help trigger conflict or contribute to famine, loss of livelihoods or displacement. This has been the case in countries like Syria, Somalia and India.
One in four people globally live in extremely water-stressed areas.
Previous early warning tools only focused on political, economic, social and demographic factors to predict water-related conflict. The WPS tool is unique because it combines these factors with environmental variables linked to water, such as rainfall, water scarcity and crop failures, to understand the fuller picture.
The WPS consortium will use data from the tool to spur political action on water-related conflict, and to guide peacebuilding interventions, with a pilot in Mali.
"Imagine what it feels like to compete with others for your water supply. That is the reality for millions of people around the world. But water-related conflicts can be prevented. The WPS Global Early Warning Tool will help us spot risks early on and take joint actions to stop them. This means building trust, collaboration and dialogue between governments, civil society and communities, to come up with solutions on how to use the water sustainably, and make it accessible to all. By working together, we can ensure that water fosters peace and collaboration, not conflict" – Jessica Hartog, Head of Natural Resource Management and Climate Change, International Alert
The tool was presented today at the World Meteorological Organization in Geneva by Sigrid Kaag, Minister for Foreign Trade and Development Cooperation of the Netherlands just ahead of the 33rd International Conference of the Red Cross and Red Crescent. In 2018, an early version of the WPS Global Tool was presented at the United Nations Security Council.
Explore the tool at waterpeacesecurity.org and follow its alerts on Twitter: @WaterPeaceSec.
About the Water, Peace, and Security partnership:
Water, Peace and Security (WPS) is a global collaboration between the Netherlands Ministry of Foreign Affairs and a consortium of six partners: Deltares, IHE Delft, International Alert, The Hague Centre for Strategic Studies, Wetlands International and World Resources Institute.
WPS aims to become an open network to bring together knowledge, capacities and activities for preventative action on water stress-induced conflict, migration, or other forms of social destabilisation. The consortium collaborates with a growing number of other institutions, including Oregon State University, Pacific Institute and New America: waterpeacesecurity.org
For media enquiries please contact:

Julia Karlysheva, [email protected]