Seven ways International Alert builds peace
As COVID-19 continues to exacerbate mistrust in governments, weaken economies and fuel civil instability, the case for conflict sensitive and preventative peacebuilding is more poignant than ever.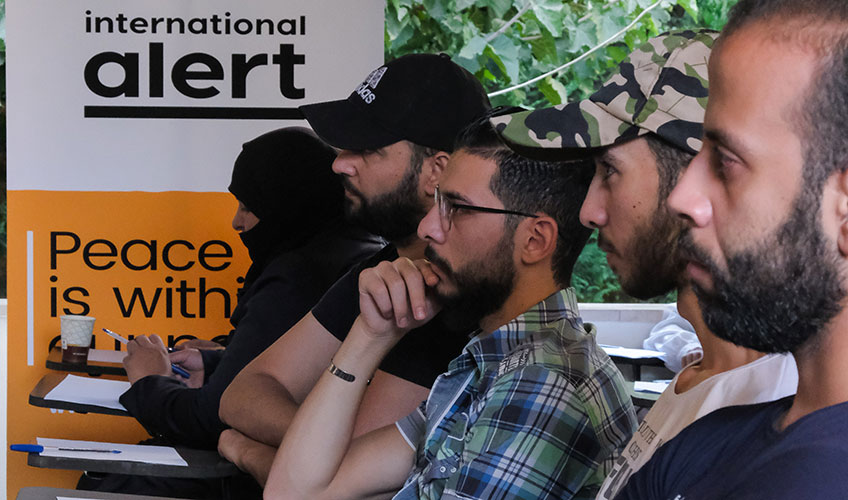 Peacebuilding programmes target the root causes of conflict – from engaging in diplomacy and strengthening democracy to improving healthcare and natural resource management – by empowering affected communities and stakeholders to take responsible action and make their voices heard.
Although the aims and activities of these programmes are diverse, International Alert has identified 7 strengths that unify its work to de-escalate conflict and build lasting peace.
The findings in this article are based on a review of 20 recent internal and external evaluations.
1. Inclusion
Ensuring collaboration and inclusion in our programmes is a key strength of International Alert's work.
In Lebanon, as part of the 'Creating space for peace' project, International Alert assembled a dialogue group where leaders from Lebanese and Syrian refugee communities discuss local disputes and plan community events. The project was designed to include diverse perspectives and levels of political power, including political opponents and female leaders, which has helped participants understand the opinions and value of their colleagues. This has inspired greater tolerance within the community and established an effective dialogue mechanism to resolve local issues and engage youth in outreach projects.
Including marginalised voices in the discourse creates a platform for their interests to be represented and addressed. Alert believes that all parties have the power to transform their communities and want to empower them to make solutions to conflict possible.
2. Context adaptation
Working in conflict-affected areas, it is essential that our projects can adapt to changing contexts to deliver relevant peacebuilding initiatives.
COVID-19 has presented a particular challenge as the world adapts to the 'new normal'. Despite these challenges, Alert and our partners continue to support our project participants. In Rwanda, our project to support cross-border traders has adapted by using existing cooperatives and networks to teach participants how to diversify their businesses and alleviate risk during the lockdown. Read about Julliene's experience in the Creating off-farm Rwanda enterprises (CORE) project.
Adapting to specific contextual demands and an evolving context is essential to delivering meaningful peacebuilding. Working with local partners and designing activities in consultation allows Alert to tailor its intervention to the needs of the people it will help. Alert also conducts regular contextual analysis and research to assess the ongoing relevance of its projects and to adapt activities if necessary.
3. Finding shared interests
Identifying common interests and shared values between stakeholders is a vital component of peacebuilding.
International Alert identifies the links between diverse groups and encourages them to collaborate, for example through our youth dialogue work in the South Caucasus. We aim to stimulate dialogue between the people of the South Caucasus by providing civic education to young people, to give them opportunities to be active in their communities and share their experiences with their peers from across the region, and to encourage collaborative responses to social issues. This work highlights the overlooked cultural ties and common problems faced by young people, helping to bridge the divide between communities and inspire conversations to improve dialogue in the region.
This is integral to fostering collaboration as it establishes a common ground for diverse groups to build on, whether they are working towards a mutual goal or need a sense of shared identity to overcome years of 'othering'.
4. Research informing practice
International Alert conducts sector-leading research to inform policymakers and practitioners to understand the needs and opinions of the communities we serve.
A recent report conducted by Alert titled 'Dogmatism or pragmatism?' scrutinised the impact of gender roles on the expectations of men and women to support violent extremism in the Sahel. The report found that extremist groups use Sharia law to appeal to the societal ideal in Fulani tradition that presents domestic segregation of women as an aristocratic privilege. It also highlights the important auxiliary roles women perform in village communities to support extremist groups and the potential for the conflict to reshape gender relations in the region.
The information we collect ensures that our practices are relevant and our interventions target the desired results. It also gives us the opportunity to start the conversation on issues that are overlooked by the donor community and advocate for change among multinational institutions.
5. Building networks
International Alert is also well-regarded for establishing and maintaining relationships between key stakeholders such as civil society organisations and government representatives.
One example of this is the Free Media Network, created by Alert and the Federation of Nepalese Journalists to strengthen media rights and freedoms in Nepal. Through this network, training was delivered to journalists across six districts to encourage documenting media rights violations and connections were made with political parties and policymakers to advocate for their rights. The network successfully increased journalists' freedom of expression in a context where this right is increasingly under threat.
Maintaining relationships with stakeholders such as community leaders, civil society organisations, government representatives and the private sector are vital to ensure we can continue to operate in a region. It is also essential to ensure that collective decision making can take place. By connecting stakeholders with a similar vision, International Alert creates networks of peacebuilders to share ideas and build a sustainable culture of peacebuilding.
6. Novel project design
At International Alert, we try new approaches to engage our beneficiaries in debates to help them think critically and understand other perspectives.
This was demonstrated in the 'Constructing dialogues on religion and democracy in Kyrgyzstan' project, where Alert adopted a youth peer mentoring approach that encouraged youth to engage with peers from other religious backgrounds. Alert also established a platform for religious-secular dialogue comprising of religious leaders, scholars, civil society members and government officials to discuss key issues on religion and democracy. These approaches allowed participants to debate together and form a common conviction, leading to locally applicable solutions to some key issues the project targeted.
Drawing on the knowledge of our partners and local experts as well as the strengths from previous projects allows Alert to design novel approaches that are contextually appropriate and target a particular goal. By monitoring the project's outcomes, we can measure our initiatives' impact and assess the effectiveness of our approach. This learning process encourages continuous development to refine our understanding of the peace process and deliver appropriate programmes.
7. Partner collaboration
International Alert collaborates with local partners and associates to implement its activities on the ground. The expertise and specialities of our partners are critical to the success of our projects and we work to ensure they align with the needs of our participants.
During the 'European Partnership for the Peaceful Settlement of the Conflict over Nagorno-Karabakh' project, Alert worked in a consortium of local and international partners to create conditions to improve relations between sides in this difficult context. This approach demonstrated Alert's aptitude for teamwork and flexibility and showcased how a consortium approach allows each partner to deliver their specialities, share responsibility and learn from one another. The project was able to deliver an array of activities such as research opportunities and training for more impartial media coverage that progressed peacebuilding outcomes such as promoting cross-conflict dialogue and supporting the growth of civil society.
The success of the consortium approach has encouraged Alert to collaborate with more international peacebuilding organisations to work towards a unified understanding of peace. This has inspired us to do and share research with our partners and policymakers as part of the Peace Research Partnership to inform programming and policy on conflict and security issues.