In Myanmar, the future of forests and people are closely tied
Over 600,000 Rohingya have fled from violence in northern Rakhine State in Myanmar, with slim prospects for a quick return home. The squalid camps in which they shelter in Bangladesh are particularly prone to effects of climate change, such as cyclones and flooding. While their situation is of particular concern, they are not the only ones at risk.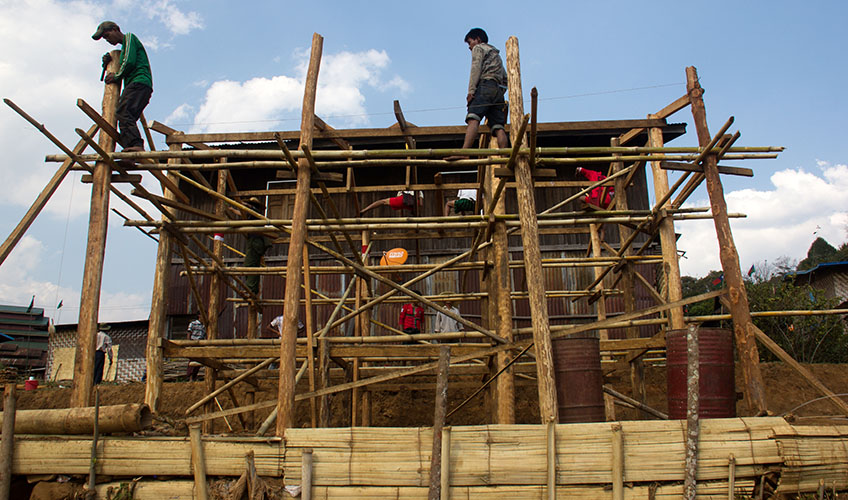 In fact, Myanmar is the second-most vulnerable country in the world to the effects of climate change. The impact of the regular cyclones that hit Rakhine State is made worse by the ongoing destruction of the mangrove forests in coastal regions. Sadly, this is just part of the rapid deforestation which has occurred right across Myanmar. And this environmental damage is closely linked with conflicts far beyond Rakhine State.
Forests contribute to the livelihoods of an estimated 80 percent of the country's population, especially those living in poor, marginalised, and conflict-affected areas. Most remaining natural forests in Myanmar are situated in the borderlands, particularly along those of Thailand and China. These areas have seen over sixty years of armed conflict between numerous armed groups and the state, partly motivated by political, economic, and social grievances relating to how the forests, and other natural resources, are managed.
Myanmar is in the middle of a lengthy process to negotiate peace after more than six decades of internal armed conflict, while transitioning from military rule to a more democratic form of governance. The new civilian government is treading a delicate high-wire act as it seeks with stretched resources to run the country and implement reforms after decades of military rule. The military retains a quarter of all parliament seats, as well as control of key ministries.
A key issue in this democratic transition and the peace process is the future governance of Myanmar's valuable natural resources.
These resources, including teak, rosewood, and other valuable timber species, are predominately still found in conflict-affected areas. Previously, they were the fuel that fed the war machines – of the military and of the ethnic armed groups.
In recent years, successive governments have imposed log export bans, logging bans, and introduced reforms to the Ministry of Natural Resources and Environmental Conservation and its state-owned enterprise, Myanma Timber Enterprise. But challenges remain, with illegal logging continuing apace, and the accelerated converting of forested land to commercial agricultural land.
The peace process is particularly complicated and fragile, with negotiations taking place between the government and military and over 20 armed groups. These armed groups vary greatly in size, form and function. Some are perceived to be little more than criminal gangs linked to the drugs trade, while others, such as the Karen National Union (KNU) are at the same time an armed group, a political party, and a form of 'local government', providing services to people living in territory under their control.
In a recent meeting, one ethnic armed organisation leader told us they believe federalism and resource benefit sharing should be at the heart of the peace discussions. They have drawn up their draft regulations on how to manage in particular large-scale foreign investments in order to ensure that the communities benefit. Such insight and expertise should be front and centre to any sustainable peace process.
One of the many challenges Myanmar faces will be how to balance the pressing need for environmental conservation and protection of local people's rights with the demands for economic development and expansion of productive agricultural land, particularly in areas where local people fear expanded state control.
Peace processes are lengthy affairs. But time is not on the side of the forests. As one civil society representative put it: "If we wait for peace to end illegal logging, there won't be any natural resources left."
---
---
This blog was co-written with Harriet Lamb. It was originally published by the Thomson Reuters Foundation