All quiet on the Karabakh front?
Erich Maria Remarque's epic novel underscored the stagnation that characterised the First World War as military forces spent years arrayed opposite one another along a bleak line of contact ever ready to fight.
These soldiers suffered through long periods of monotony, interrupted by sporadic artillery and small arms fire that killed at random, and skirmishes in which – at best – only insignificant slivers of land could be gained or lost. All the while, the leaders of these warring nations offered little vision about how to end this daunting stalemate. Outside efforts to mediate peace were rebuffed in favour of calls for a direct exchange of views between the two sides, but no compromise proposals were presented, only maximalist demands.
A similar stasis can be observed today in the long simmering Nagorny Karabakh dispute involving Armenia and Azerbaijan. Here trenches similarly slice the countryside, populated by battle-hardened soldiers engaged in a conflict that has already spanned decades. Sizeable civilian populations remain displaced, economic development has been hampered, and scant progress has been made toward a peaceful settlement. The conflict, and the resulting "no peace, no war" situation, has had a profound influence at the grassroots level in all three societies, according to Envisioning Peace, a study published this week by International Alert.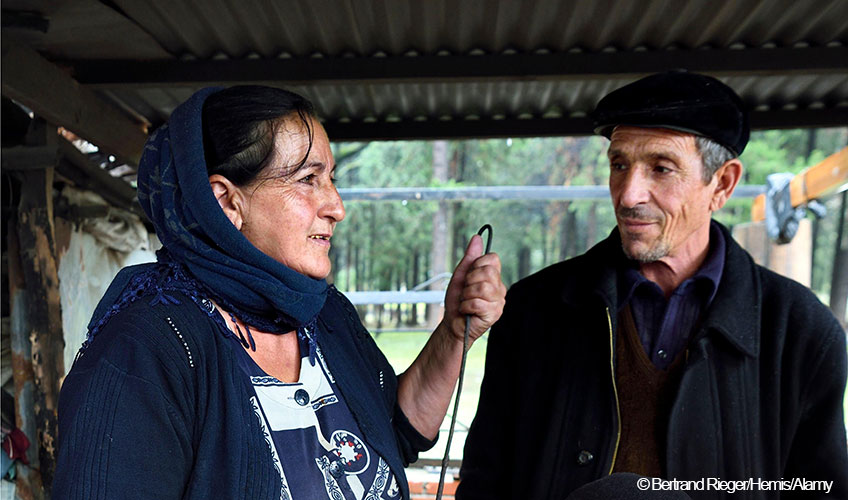 Is all quiet on the Karabakh military front? Is all quiet on the Karabakh diplomatic front?
On the Karabakh military front, all is certainly not "quiet" enough. Like the Western Front during World War I, quiet in the Nagorny Karabakh conflict has not meant the absence of death or suffering. It has merely signified the absence of large-scale fighting. Ceasefire violations remain a constant occurrence and periodic loss of life, military and civilian, on all sides has almost become accepted background noise. Armenian Prime Minister Nikol Pashinyan noted that 28 September (the day of his first formal meeting with Azerbaijan President Ilham Aliyev) was the calmest night along the Line of Contact since his election on 8 May. That said, an Armenian serviceman died of a gunshot wound in Karabakh on 1 October. Firm numbers are hard to obtain, but there are typically dozens of casualties each year.
Fortunately, large-scale warfare has largely been avoided in the Nagorny Karabakh dispute since 1994 when Russia helped broker a ceasefire. One major military flare-up did occur in April 2016. This so-called "Four-Day War" showed that even a small skirmish has the potential to escalate quickly, bringing into play more troops and more sophisticated weaponry that produce far greater destruction and casualties. The 2016 fighting, saw as many as 350 military and civilian casualties. At the same time, this military action made little genuine difference. When the "war" ended, only 800-2,000 hectares of land had changed hands.
Efforts to advance peace
What about efforts to advance peace? On the diplomatic front, things have been definitely too quiet. Like the military situation detailed above, quiet does not mean the absence of a structured peace process or periodic meetings between each country's leadership. In September, on the margins of the United Nations General Assembly, the foreign ministers of Armenia and Azerbaijan met together and separately with the OSCE Minsk Group co-chairs (the international group tasked with advancing this peace effort). The three co-chairs – the United States, Russia, and France – will travel to the region this month and the two foreign ministers agreed in New York to meet once more before year's end. While face-to-face contact at this level is important, these sessions usually do not generate concrete steps toward a solution. When such movement occurs, it has more typically resulted from agreement reached directly between the Prime Minister of Armenia and the President of Azerbaijan.
The first formal huddle between Azerbaijan President Ilham Aliyev and the newly elected Armenian Prime Minister took place 28 September in Dushanbe on the sidelines of the Commonwealth of Independent States Summit. Here, both leaders affirmed their commitment to the process of political negotiations to achieve a settlement. They also agreed to unspecified steps to prevent incidents between troops along the border and Line of Contact, and to create mechanisms for prompt communications between "relevant authorities" on each side. While these modest confidence building measures (CBMs) sound promising, the international community has been down this road before. After the 2016 fighting, the leaders of Armenia and Azerbaijan agreed to two CBMs: to increase slightly the number of OSCE monitors and to establish an incidents investigation mechanism to help determine ceasefire violations. To date neither measure has come to fruition.
Most importantly, the Dushanbe discussion made clear that the unsettled issue of Nagorny Karabakh's possible participation in the negotiations process did not prevent the two leaders from meeting and proposing steps to create an improved atmosphere for peace talks. Pashinyan has stressed that while he can negotiate for Armenia, he is "not authorised to negotiate" on behalf of Nagorny Karabakh. Aliyev, in turn, has insisted that the participation of the "so-called Nagorno-Karabakh Republic" in the peace process is "unacceptable." While this issue likely remains open, it is promising that it did not preclude productive engagement.
Realistic path forward
The passage of time has made achieving a peaceful resolution of the Nagorny Karabakh conflict more difficult as regular citizens have come to have sharply different views of what peace would mean, what compromise might entail and whether they could possibly once again live peacefully together. This division was underscored repeatedly in International Alert's Envisioning Peace report, which based its findings on in-depth interviews with communities in Azerbaijan, Armenia and Nagorny Karabakh.
Respondents expressed a strong desire for peace. Those in Armenia saw that as providing "stability" whereas those in Azerbaijan hoped that it would yield "justice". Many were willing to pay a significant price to "just let there be no war," although their leadership has provided little sense of what might be required to achieve either that end or peace. A shared view at the grassroots level was that conflict resolution should be dealt with by the authorities and third parties, such as the OSCE Minsk Group, the United States and Russia. At the same time, however, the surveys revealed considerable distrust of these actors.
The true title of Remarque's book was actually not "'All Quiet' on the Western Front," but 'Nichts Neues" (nothing new). This may actually be the best description of the current state of the Nagorny Karabakh dispute. On the military front, the low-level bloodletting has not stopped and the potential for another large-scale skirmish remains largely undiminished. On the diplomatic front, the peace process continues as it has for years with a flurry of activity: meetings by OSCE Chairmen-in-Office and Minsk Group co-chairs with Foreign Ministers and leaders, regular visits to the region, and occasional summit meetings. However, there has been scant visible progress and little public discussion of a realistic path forward. While significant compromises have been central elements of past peace proposals, official pronouncements – then and now – have been largely a repetition of patriotic, maximalist positions.
Now is the time to begin work on something new. The unsettled domestic political situation in Armenia will almost certainly block significant action in the near term, but the conflicting parties – if they truly accept that the only solution is through political means – should begin to better communicate to their own people how that might be achieved. In the interim, CBMs, like the two remaining on the table since 2016 and the two just announced in Dushanbe, provide an opportunity to positively make the military front "quieter," while fostering greater trust on the diplomatic side in the ability of everyone to work together to build a foundation for peace.