After Beirut explosion, Lebanese civil society unite across divides
The devastating explosion in Beirut's port on 4 August caused grievous loss of life, injuries and destruction, including shattered glass and cracked buildings. People in the affected areas were going about their daily routines: leaving work, jogging along the Corniche, meeting with friends, or simply in the apparent safe haven of their homes.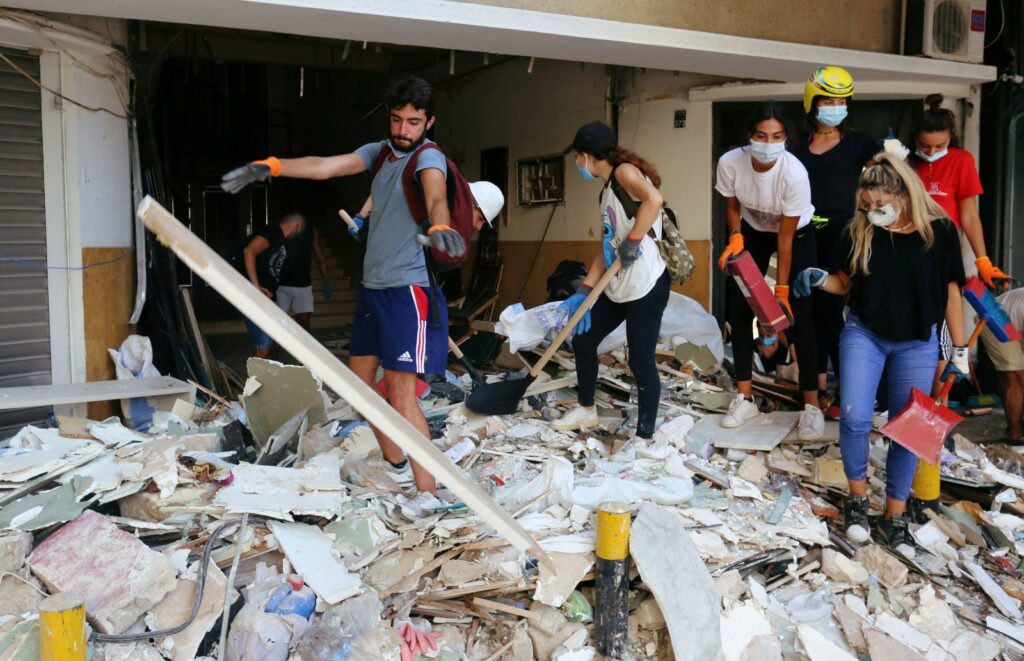 The explosion was a tragedy, not only for Beirut's residents, but for the whole of Lebanon. Since then, the entire country has been picking up the debris and trying to come to terms with the magnitude of a disaster that hit the country in the midst of an ongoing economic crisis, the COVID-19 pandemic and political impasse since October 2019.
The situation has left Beirut without a government-coordinated and clearly communicated relief and response plan. Because of this, many people across the country, from different backgrounds – Lebanese and non-Lebanese – took their own initiative and decided to act quickly in support of the stricken people of Beirut.
Solidarity with the victims and survivors, saw thousands of volunteers mobilise to support relief efforts, supporting clean-up operations, donating blood, offering shelter, distributing food and care packages. Here are some of the volunteers' stories:
"We could not see the magnitude of the damage and not do anything to support those affected. We know that our state has been absent in terms of protecting and providing its citizens with basic necessities, and we have no choice but to act ourselves", says Ali, a resident of the southern suburb of Beirut, who volunteered with a group of his friends to provide food and water and clean up streets and apartments in Mar Mkhayel and Gemayze neighborhoods.
Similarly, Moath, a Syrian volunteer from Bekaa Valley, says that his "sense of human responsibility drove him to help in any way [he] can and within the limited capabilities".
Acknowledging that on any other day, many Lebanese would disagree on politics, Abdallah from Tripoli, who volunteered with a group of his friends coming from different areas in north Lebanon, says that "despite everything, the Lebanese people always help each other in crises. The already dire economic conditions and people's frustration with the political system also made us come together to support each other in such a humanitarian crisis".
In Geitawi neighbourhood, a few hundred meters from the heavily damaged St. George Hospital, dozens of volunteers have established a base at what used to be a gas station. They call themselves 'Jil nilon', or the Nylon Generation. "Our parents used to call us 'the plastic generation' because we didn't live the war, we were not good enough. We wanted to reverse this," says Nicolas, another volunteer.
The volunteers gathered the day after the explosion and brought thick nylon sheets to close off the blown-out windows in the area. Other young men and women joined them in response to calls from friends and posts on social media. People from different parts of town started bringing nylon, tools, food and medicine to the station, while the volunteers organised teams to visit damaged houses and handed over food, water and medication to people in need.
Our generation carried the weapons and fought each other. These young people can bring back humanity.
By calling themselves 'the plastic generation', these young people are telling their parents that they are working hard to help others, says a former civil war fighter, who is now a vocal peace activist. "Our generation carried the weapons and fought each other. These young people can bring back humanity to the people."
The Lebanese were not alone in supporting relief work. Born and raised in Lebanon, Mariam, who is Palestinian, says: "I always felt I belonged to this country, and I always use the word 'we' because I am affected by everything that happens in Lebanon." She adds that "being on the ground to help the affected areas made me experience first-hand an overwhelming sense of solidarity; no one asked about the other's nationality or political and sectarian affiliations. We all shared the same grief, and the same joy whenever we completed a relief task."
The Palestine Red Crescent Society (PRCS) also sent its ambulances and volunteers to assist the Lebanese Red Cross and support rescue efforts and treated dozens of wounded Palestinians, Syrian and Lebanese people at Haifa Hospital in Beirut's Burj el Barajneh refugee camp.
Lebanon is host to the largest per capita Syrian refugee community among other host countries in the region. Recognising that sentiment towards the presence of Syrian refugees in the country has changed over time, and seeing tensions rise due to the economic crisis and pressures on the country's already weak infrastructure and basic services, which have roots that predate the Syrian crisis, Saad, a Syrian volunteer, was keen on avoiding tensions that might arise from his obvious accent during his presence in Mar Mikhayel neighbourhood (near the port of Beirut).
He says that even though he witnessed a few incidents where Syrian volunteers were received with caution, that did not hold him, or his group of eight Syrian friends who came from Tripoli, back from giving a helping hand. "I wanted to help in any way I could, and express my solidarity with the Lebanese affected by this explosion." He adds that "other groups did not look at us as 'outsiders'. We were welcome to help and coordinated with other groups to split the tasks."
The volunteers we spoke to for this article expressed varying levels of hope for positive change in Lebanon's political confessional power-sharing system, which they all held responsible, either directly or indirectly, for the explosion, because of negligence leaving dangerous chemicals near a built up area. Some were more hopeful than others. But a common denominator permeated their experiences: a shared sense of solidarity and responsibility to lift each other.
Mohammad, originally from Tripoli but now residing in Beirut, says that "there is no other way to get over this tragedy but for all people comprising Lebanon's diverse social fabric to stand with each other."
There is no other way to get over this tragedy but for all people comprising Lebanon's diverse social fabric to stand with each other.
It is crucial to support these local volunteer networks, not only to strengthen the emergency response but also to help turn these acts of immediate solidarity into stronger and more sustainable social bonds for the future.
There is a strong foundation for building sustainable peace through the volunteer groups and civic movements that have emerged over the past weeks and months of crisis.